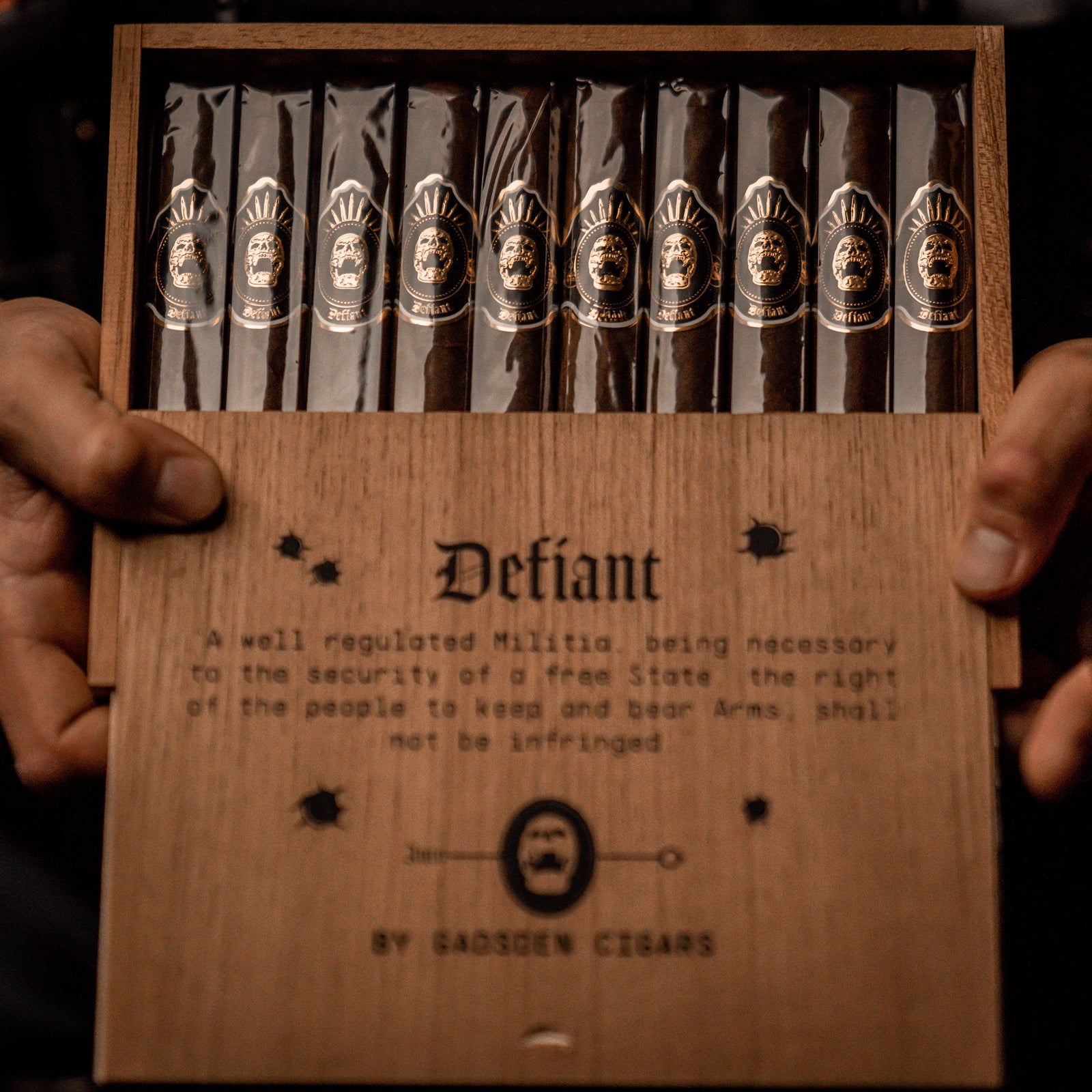 Defiant - Aged Habano Toro
Get ready for a cigar as unique as the American spirit of defiance. Our delicious Nicaraguan Habano wrapper gets its dark color from an 18-month aging process. You are immediately met with an aroma of barnyard, red pepper, bittersweet chocolate, and malt. The Defiant cigar has a slow smooth burn, creamy smoke, with medium+ intensity, and a subtle raisin flavor. 
$99.00
The thick creamy smoke from Molon Labe delivers rich layers of coffee, almond, white pepper, and vanilla bean. Guaranteed to leave a lasting impression. This is your new go-to cigar!
Toro 6 x 52
Wrapper: Connecticut
Binder: Habano
Filler: Esteli Jalapa Ometepe
Origin: Nicaragua
Spanish Cedar Box (Optional)
$60.00
Looking for a robust, yet sophisticated cigar to enjoy every day? EDC is the perfect choice. You asked, and we listened. It was time to create a smaller, more cost-friendly stick without sacrificing the quality that you're used to from Gadsden. The EDC is handcrafted with the finest Nicaraguan tobaccos, resulting in a rich and complex flavor that is sure to please even the most discerning palate. Whether you are enjoying a leisurely afternoon on the patio, going for a drive, hanging out at the range, or hitting the links with the boys, the EDC is guaranteed to leave you feeling satisfied.
Flavor: cocoa nibs, leather tack, espresso beans, nutmeg, and pepper
Size: 5 x 44
Wrapper: Maduro
Binder: Nicaraguan
Filler: Nicaraguan
Strength: Medium+
Burn time: 30-40min
Backed by our 100% Satisfaction guarantee!
Does Coffee Go Well With Cigars?
A look at this historically treasured combination.
There is nothing like a rich, dark cup of coffee to compliment a delicious cigar. The smoky, earthy flavors of the tobacco are perfectly balanced by the intense, roasted flavors of coffee. Whether you prefer a bold, dark roast or a smooth, medium blend, there is a coffee out there that will pair perfectly with your cigar.
7 Things You Didn't Know About Nicaraguan Tobacco
The Taste of Freedom.
Nicaraguan cigars are renowned for their quality and flavor. The tobacco is grown in a variety of regions, including Esteli, Condega, Jalapa, and Plasencia Alma del Fuego. The volcanic island of Ometepe is also a popular growing region for Nicaraguan tobacco.
Why Are Cuban Cigars Illegal in the US?
It all goes back to the Cuban Revolution of 1959...
Perhaps it's the fact that they're handmade with only the finest tobacco leaves. Or maybe it's because they're illegal in the United States. Pop culture is rife with images of celebrities and dignitaries indulging in Cuban cigars, often in defiance of the law. But why are Cuban cigars illegal in the first place?